Your business revolves around your clients. AM revolves around your clients' information.
Everything that happens across AccountancyManager relies on the data you enter into your Client Import spreadsheet – from your automatically generating Task List to your automated record requests.
The more you fill in, the better AM will be
It might not be fun, but fill in as much as you possibly can. Your life will be much easier going forward and you'll also get a whole lot more out of AM. Any columns you skip now will mean manually adding data against each client later.
It's not as daunting as it looks
In this guide, we've grouped the columns to help you identify the most important parts to fill in – and why. A good tip is to copy and paste data from existing spreadsheets – or download data from other software you use – to get you started.
We'll check your spreadsheet over before you upload it
It's much easier to fix mistakes before you've uploaded your spreadsheet. So if you're at all concerned, just get in touch. Our support team will happily review it for you for free.
Where to find the Client Import spreadsheet template
1. Hover over Tools and click Import Clients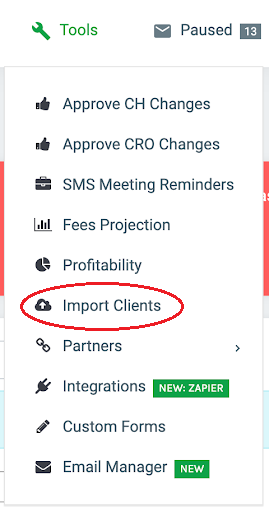 Click 'Download Spreadsheet Template'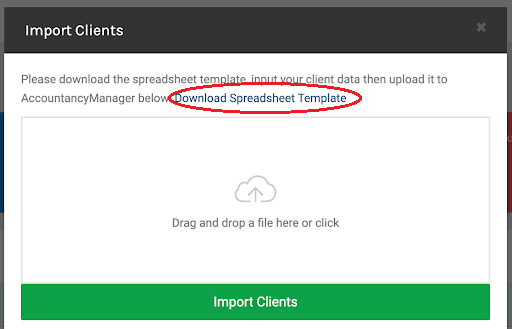 Don't miss the little description notes for each column
When you open up the spreadsheet, take a look at the top of every column. You'll find a small triangle. Hover over this to see a note explaining the data you need to add and what it affects in AccountancyManager. And now you're ready to start entering data.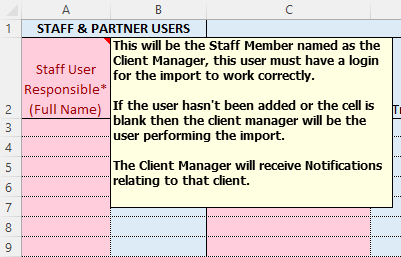 It will also tell you what might happen if you don't fill in a cell: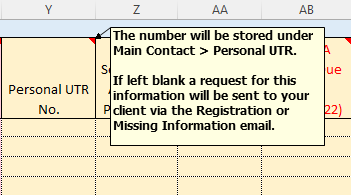 Understanding the columns – at a glance
We've colour-coded the template to show which columns to start with and how the data powers different features across AccountancyManager.
Pink columns: Add your clients and sync AM with Companies House/CRO
Start with the columns we've made pink in the template. This will add basic info about your clients to AM. There should be no blank cells in these columns.
The Company Number in Column I will automatically pull through your clients' accounting dates and deadlines from Companies House or CRO (in Ireland), for your Task List. (You can leave cells blank in this column if the client isn't a limited company.)
Column R: Email 1
This email address will be used when emailing your client and when you invite them to register for the Client Portal.
Columns with red text headers: Driving your automatically generating Task List
These are the rest of your clients' year ends, returns due and deadlines, AccountancyManager needs these to generate your Task List. (This would take much longer to do after you import your spreadsheet. You'd have to go into each client individually.)
Dark yellow columns: Missing information triggers
These capture agent authorisations, whether your client has provided valid ID and Tax Reference numbers. If you don't fill these in, AccountancyManager will automatically chase your clients for any information you're missing from their file.
Dark grey columns: Unhide these to add more data
There are three grey column marking where there are hidden columns. These are for things like adding a second, third and fourth director for one company.
Pink columns: Adding clients and Companies House/CRO sync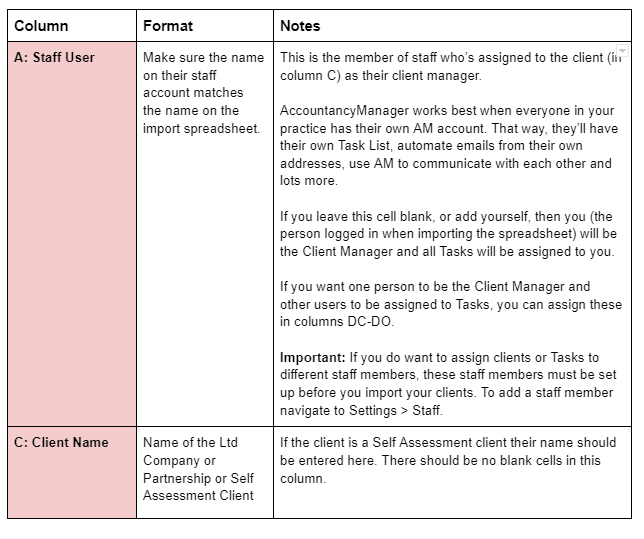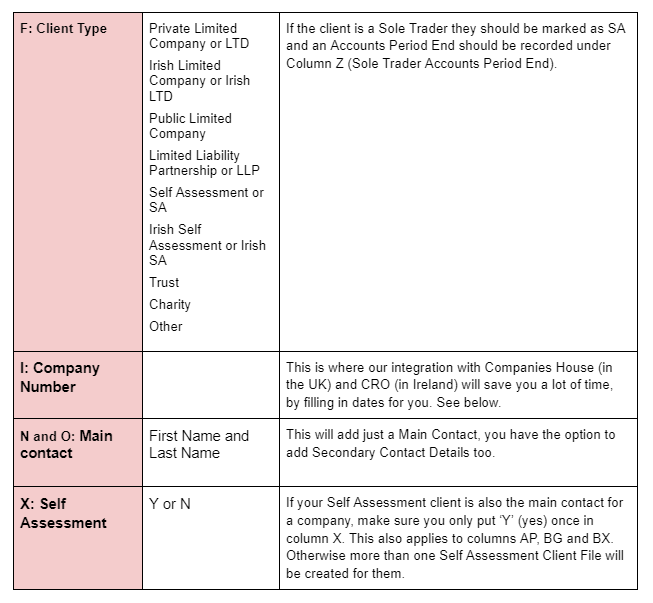 When you enter a Ltd company's number, AM will automatically pull through the following dates and information: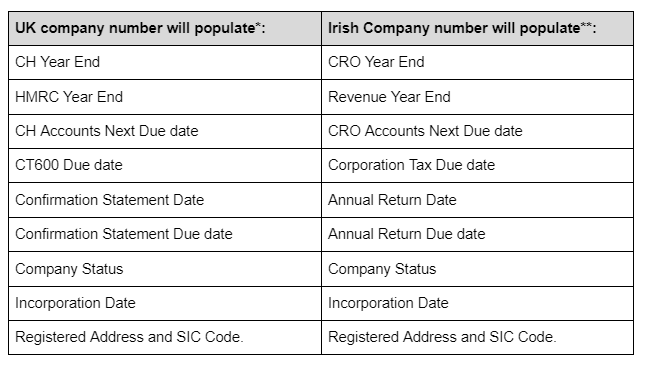 Column R: Client Portal registration

Columns with red text: Automatically generating Task List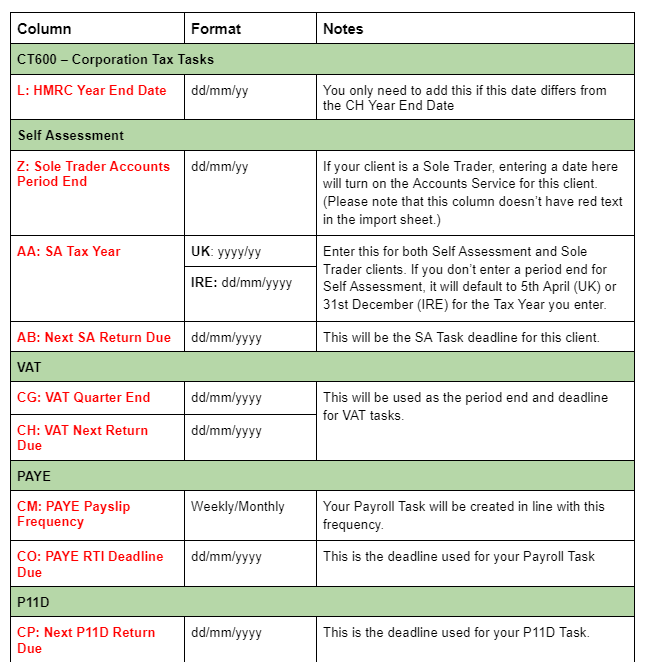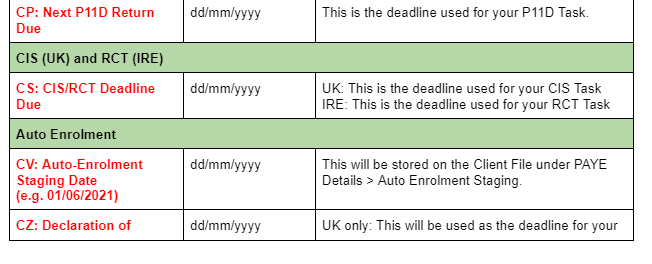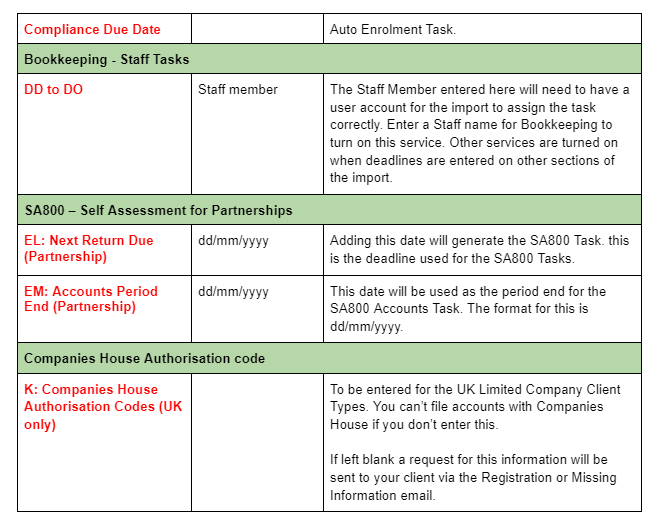 Dark yellow columns: Missing information triggers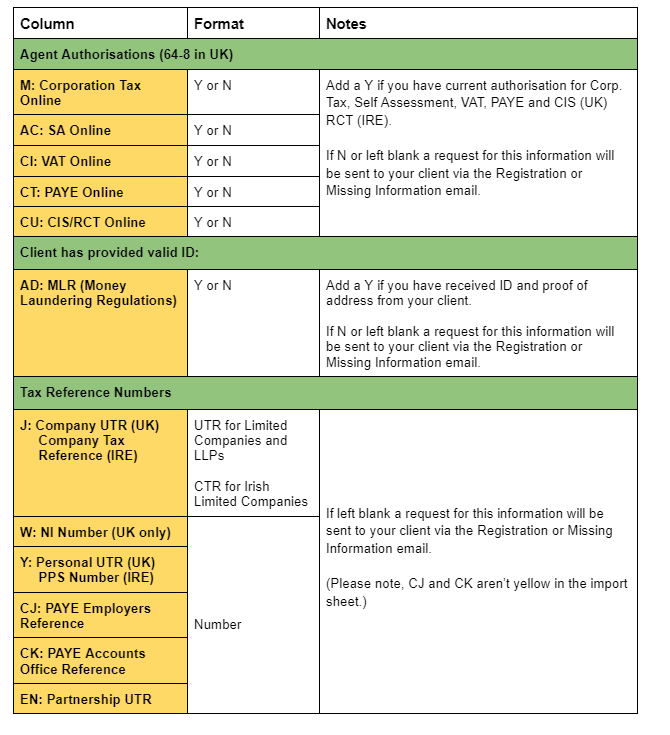 The remaining columns
While the rest of the columns don't power automation or your tasks, it's still a good idea to fill them in. AccountancyManager should be your one-stop shop for client data. So the more you add, the more useful AM will be.
Remember, you can filter and sort your Client List using this information too. And even save (bookmark) your favourite filtered lists as constantly updating dynamic 'reports'.
Do you want us to give it a once over?
When you've completed your Client Import sheet, get in touch with our Support Team so they can give it a final check. This isn't mandatory, but it's totally free – it's much easier to fix small mistakes in the sheet before you upload it.
Emailing it wouldn't be GDPR compliant. So share it with us by uploading it to your Resources section in AM. Then let us know it's there.
If you have any questions as you fill in your sheet, do get in touch, we don't bite (or charge).